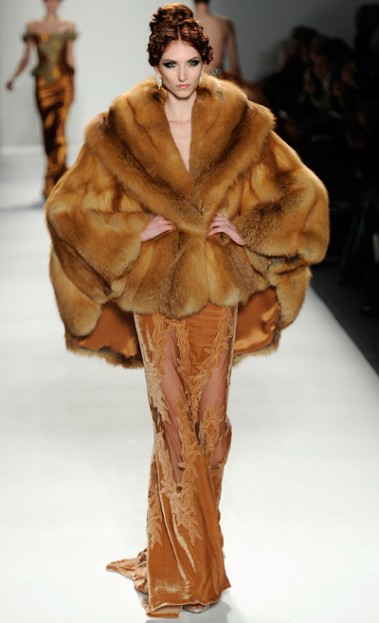 VENEXIANA'S MAGNIFICENT FALL 2012 COLLECTION
BY:  Hope Wilkos, Writer/Blogger Photographer:  George Whylie Videographer:  Maxine Nolan Photos Courtesy of www.mbfashionweek.com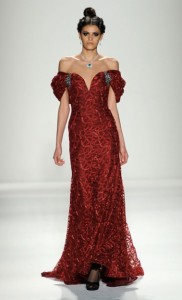 Day 3 of Mercedes-Benz Fall/Winter 2012 Fashion Week came to a magnificent end as the vivacious and very feminine designer, Kati Stern, brought her over-the-top in elegance Venexiana Fall 2012 Collection to the runway at Lincoln Center as the last show of the evening.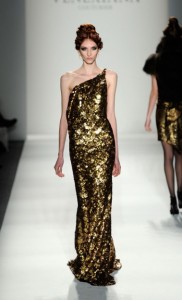 There is definitely a magic in every Venexiana Collection and so far these gowns put the "L" in lovely.  For those with an eye for detail, almost every gown had intricate detail and embellishment that put a spell over the audience.  Richly enhanced gold, silver, copper, red and black were the most popular colors while many facets of green, turquoise, lavender, orange and pink took a close second.  The collection was filled with refined fabrics of silk, organza, chiffon, tulle and lace as a reminder that this was a couture collection of sophistication and class.  Crystal back straps added the finishing touches.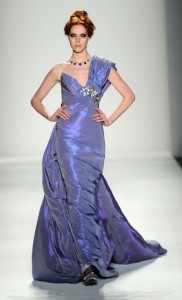 The gowns fit closely to the body to accentuate the models' curves in all the proper places.  The looks were varied from halter closure to one-shouldered to off the shoulder strapless to high neckline.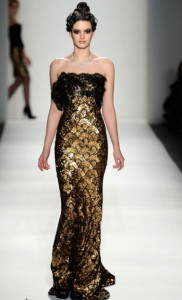 To remind us that we have entered the Fall/Winter 2012 season, fur was an essential part of the look.  A black mink jacket was worn over a black and gold skirt.   A red fox cape-jacket top looked formal and fabulous over a burnt orange velvet skirt.  A chinchilla top was paired with a black velvet skirt while a silver fox jacket looked polished over a velvet skirt.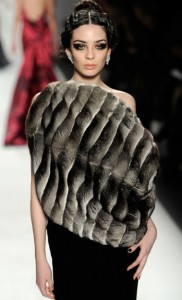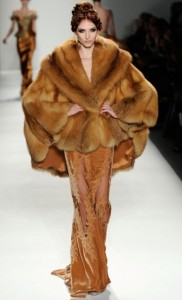 Gunmetal sequins gave this collection a bit of rock-and-roll meets haute couture as a stunning model walked out dressed in the one-shouldered cocktail dress and another in the gunmetal sequined sweetheart neckline evening gown.  A black and hot pink bustier could be imagined as part of a rock artist's costume along with a crystal long black satin skirt followed by a navy satin bustier with crystal overlay over a satin skirt.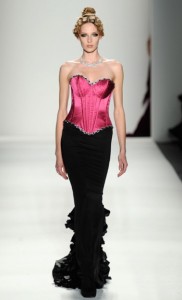 Some of the most dramatic and alluring outfits included a copper/gold reptile-scaled sequin one-shoulder cocktail dress, a gold/black/green brocade cocktail dress with Italian processed brown raccoon bolero, a silver beaded gown, a rose mocha evening gown with beaded top and layered ruffled train, multi-colored lace evening gown, a bordeaux iridescent gown and a black lace corset with feather collar and long black velvet skirt.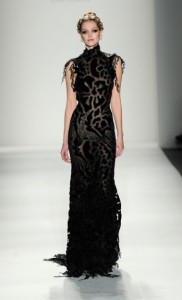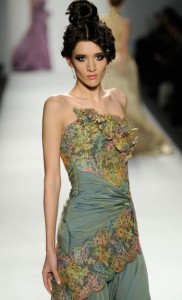 An interesting sequined serpent shoulder strap held a dark green evening gown in place with a seductive strength.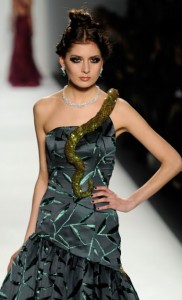 One of the great concepts of this collection was the mixing of the long floor-length gown, gown with train and short evening dress and each was just as effective and beautiful.  Some of the shorter dresses had draping gathered up at the hip with a diamond pin , others had open backs, netting and applique details.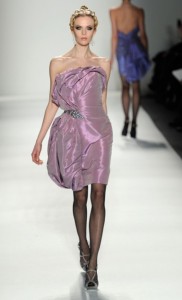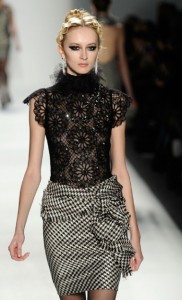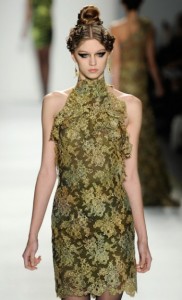 The final gown was the culmination of the collection as a model appeared in a black voided lace velvet evening gown.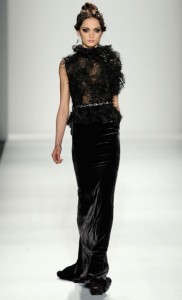 Dramatic dark eyes and hair pulled up neatly gave the Audrey Hepburn effect while glistening accessories pulled the look together for a final portrait such as diamond earrings, necklaces, brooches and skinny belts.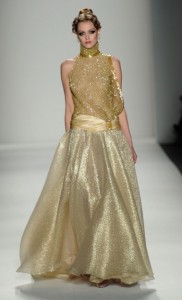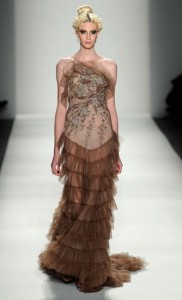 So far, the Venexiana Fall/Winter 2012 Collection has to be one of the most majestic showings of Mercedes-Benz Fashion Week.  Kati Stern's clothes bring a sense of splendor to every woman.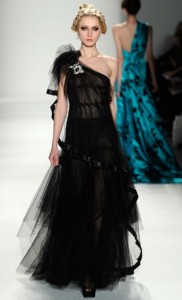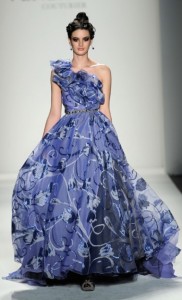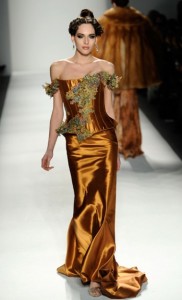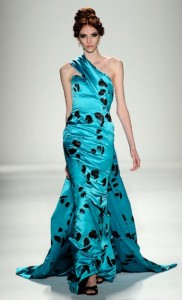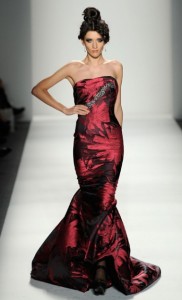 7 Responses to "VENEXIANA'S MAGNIFICENT FALL 2012 COLLECTION"